Makan in Cordoba
After the arts residency in Buenos Aires at "Quien puede vivir en esta casa?" Makan arrives to Córdoba on the 21st of October and takes residence in the flat generously offered by New York based Argentinean artist Cecilia Mandrile on La Cañada Street one block away from Plaza de la Independencia and two blocks away from San Martin historic centre, where  we were kept company by Cecilia's collection of hundreds of rhinos. Makan team owes their relationship with Argentina in general and Córdoba in specific to Cecilia, it all started with meeting Cecilia in Amman in 2006, that was when we were first introduced to dulce de leche, as she was teaching at a university at the time. She exhibited in Makan in 2007 and spent a one month residency in Bait Makan in July 2009.
The central location of the house allowed for a special relation with Córdoba city to flourish, it is a city with an historic down town of Jesuit buildings including one of the oldest and some claim the oldest university in South America, it is a university city full of young people, the streets are always busy and fill up and over flow with pedestrians and active bars, cafes and restaurants at night. It is also an actively political city; we can hear the sounds of protests and demonstrations from our windows almost daily, very often ending up at the Plaza de la Independencia.
We were met at the Omnibus terminal, after 13 hours on the bus from Buenos Aires, by Cordobés artist Juan Der Hairabedian late at night. We had last seen him in July 2008 when he participated in Shatana International Artist Workshop. Naturally, the conversation steered towards Shatana workshop and the different artists and their news.
On our first day in Córdoba we were accompanied by another of Shatana Workshop participants, Lucas Di Pascuale to the Emilio Carffa Museum where he had a show entitled Artista Turista exhibiting works he completed during artist residencies including Shatana International Artist Workshop in 2007, the first Shatana Workshop to take place, his project involved the strong Shatana wind.
Lucas' work spans quite a number of years and varies in format and matter. In one on going project he places a LOPEZ sign on different structures, a name of a person who disappeared during the dictatorship (the National Reorganization Process 1976-1983), symbolic of all the others. The exhibit includes a series of drawing completed at the Rijksakademie representing the artist's personal research through Art books at the library of the Academy, also an ongoing project investigating different personal and public libraries, copying works by world famous artists. As well as a section introducing the work done at Shatana Workshop, it was very exciting to see how far Shatana Workshop experience can go.
http://www.lucasdipascuale.com.ar/indexE.htm (in English)
http://www.museocaraffa.org.ar/
Juan and his partner Cecilia Richard, she is a jewelry artist, invited us to dinner at their house with their charming kids Franco and Azul. We had delicious brochettas barbecued on the parilla and were taken on a tour of their studios. Later, we had the chance to visit Lucas' studio when he and his wife Sandra invited us to a dinner of the argentine famous empanadas.
Both Lucas and Juan run Lectura de Obra, an annual seminar that has been taking place from September until November for five years, artists respond to a call for application, around 12 participate each time ranging from students to professionals of various ages. It is a meeting outside the formal education structures, a space that allows for discussion, brainstorming and learning beyond the hierarchical traditional education systems. The meetings are held every Saturday from 9 until 1, in general, the participants present their art projects which are subject to group discussions, analysis, and development suggestions and solutions.
We were invited to attend one session of the Lectura de Obra, which is taking place this year at the CAC (Contemporary Arts Centre). We spent the session on Saturday the 24th October with them, witnessing presentations by two of the participants showing images of their work as well as actual work and engaging in conversations with both Juan and Lucas as well as the others. It was important to be part of this inspiring alternative and serious independent initiative by the two practicing artists, both of them with teaching experience.
On Friday the 6th Nov, we gave a presentation on Shatana Workshop organized by Lectura de Obra (Juan and Lucas) at Cepia centre (Extensión Cátedra Diseño e Interrelación de las Artes (Escuela de Artes / FFyH-UNC) at Córdoba University with the assistance of the two arts students turned translators Carolina Cuervo and Dominique Vallmitjana.
The presentation included an introduction on Makan, the space, goals, context, artists and activities. Then it spoke of Shatana Workshop, the location, the organization, the artists, the work process, the projects and the open day. Thirdly the presentation spoke of the residency in which both Ola and Diala participated in Buenos Aires. The presentation was followed by some comments and questions by the 30 some audience which ranged from students, practicing local and visiting artists and art operators.
www.editorialcepia.blogspot.com
Another of Córdoba's adventures was the trip to Luis Libretti's house of treasures. Luis Libretti, artist, designer and event manager invited us to his house, a fantastic voyage into his collection of family antiques and far away memorabilia, Aladdin's cave of wonders which may soon invite the public in and he has a great surprise in store, which we were lucky to take a sneak peak into.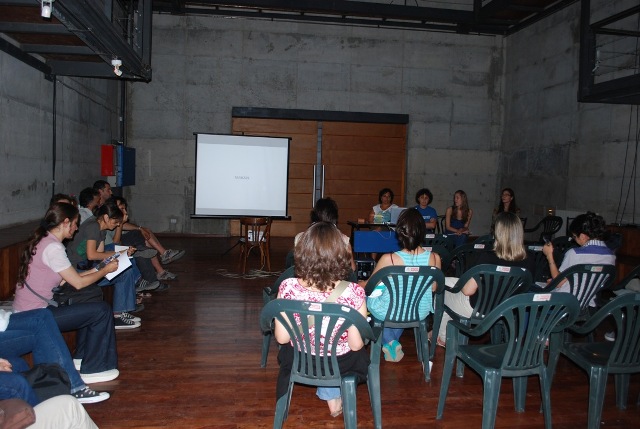 Córdoba facts:
§  The capital of Córdoba province, central north of the country
§  The second largest city in the country
§  The majority of people drink Maté
§  Claimed to be home of the oldest university in South America: the Colegio Convictorio de Nuestra Señora de Monserrat, founded by the Jesuits in 1599.
§  Apparently the Cordobéses are known for a particular sense of humour.
§  The best dulce de leche ice cream is at Soppelsa Helados (one branch on La Cañada Street).
http://en.wikipedia.org/wiki/C%C3%B3rdoba_Province_(Argentina)