April's Ful-Makan in California
Makan's فول at the Oakland Museum-California
April 1st 2011
Makan traveled all the way to San Francisco to make ful in the spirit of the revolution, here is the recipe:
Makan's Ful
Ful (fava beans) from a can (1 can for 4 persons)
garlic
lemons
hot green chilli
olive oil
parsley
salt
Crush the garlic, finely chop the chilli, squeeze
a lot of lemon juice, mix them all in a bowl add in the olive oil and salt. Drain the water out of the fava bean cans, place the beans in a large pot, sprinkle in some salt. Mash the beans while they
are on the fire, when hot place a spoon on a plate then add the mix op top, then sprinkle with parsley for garnish.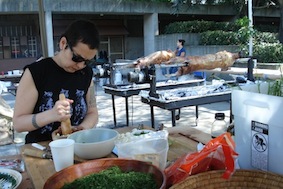 As part of the event April's Ful inspired by the uprisings in
the Middle East and organised by the Citizen's Laboratory in collaboration with the Oakland Standard series at the
Oakland Museum, Makan was invited to make ful alongside Chef Jerome Waag of Chez Panisse and a dish of Yemeni ful.
The event also included a skype station where visitors were able to chat with cairo based artists Doa Ali and Taha Belal,
a print making station where people were able to make their own posters using two silk screens designed by Oakland
based activist Dunya Alwan, a screening of videos and
internet based material approaching the various revolutions
in the Arab world and Iran, a series of talks, music, fresh
taboun bread and 5 roasting lambs. People came by the hundreds and sat on the grass enjoying one of the early
sunny days. It was a lot of fun and Makan's ful was a hit.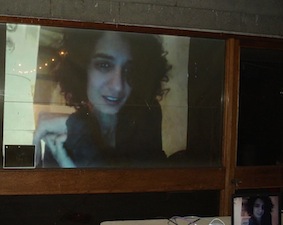 For more information and pictures, check: http://www.museumca.org/theoaklandstandard/april-fuls-night