mustafa alyousef - jordan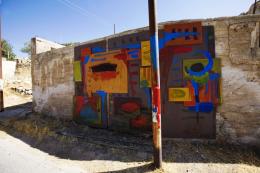 Untitled
Mural, acrylics on wood
A mural in parts and collage so it looked like the stones of old Shatana houses. Along one wall, at sunrise and sunset, I painted abstract expressionist paintings as a result to my sense of Shatana.
A gym, table tennis, a massage table
When you go to Shatana, all your dreams come true. You will live in a beautiful world. I spent my first few days talking to others about art and love. I created my own world, I made a simple and beautiful gym, I made a ping pong table and I will never forget the massage table and everyone's interaction. I ran in the fields of Shatana and animals joined. The moon was so bright it reminded me of the girl of my dreams who will arrive from the moon, as I used to think when I was a child. We were like an honest arts United Nations working towards a beautiful world. Shatana, I will never forget your beautiful summer nights, so windy and cold. And I will never forget the goodbye tears and the kisses.