sunoj damodaran - india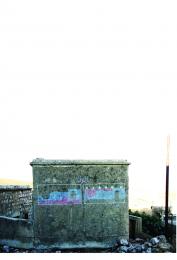 In Between The Lines
L.E.D. lights
This work consists of 150 meters of L.E.D. illuminating the outlines of the structure of an abandoned dilapidated house in the village of Shatana. The house is used as a metaphor emphasizing issues of metamorphosis and transformation in the geographical landscape of the village.
Proposed Module For Reconstruction (House)
chalk
A chalk diagram, consisting of two similar drawings on the wall of an unused broken down house, proposes a module for the reconstruction of a destroyed wall in this house. The numbered stones, scattered on the ground, correspond with the first drawing on the wall. The second drawing illustrates how to reconstruct the destroyed wall by fitting the numbered stones together. This module can also be used to build other basic amenities for the village like a water tank, pharmacy, entertainment, public transport etc to bring about improved living conditions in the village.