mohamed el mahdaoui - morocco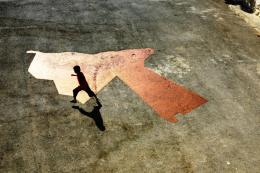 Installation
map of Jordan, 15000 piasters (equal to JD150), face up
I spent a year between my graduation and my participation in Shatana Workshop in the south of Morocco staring at the emptiness that transformed my dreamy look to another breathing blackness. In Amman, I met Bashar, the participant from Palestine; we spoke at length about Palestine, Jordan and Morocco and the Arab World crisis.
In Shatana, I received 150 Jordanian Dinars to produce the work. I remembered those gluttonously practicing art (commercial art of course). Shatana village is a virgin land; I forgot the city mess until I stood in front of a large political sign. It reminded me of the streets in Amman and Moroccan cities. Each country has its images. Signs and pictures (political and commercial) creating visual pollution. Is it a desire to 'image-gise' a place or to 'place-ify' an image?
Firstly, it is a work using JD150. Secondly, it reflects a home with many images. Finally, by simply placing the coins, the work is far from any skill or craftsmanship.