md. abu naser robii - bangladesh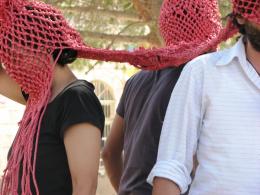 The three
A public performance project, 3 part hat
I started my journey to join an international workshop in Jordan. It was my 33rd birthday. It took 3 days and 3 airports, through which there was a lot of struggle with visa and immigration matters, until I arrived in Jordan at 3 a.m. We were 3 in the car travelling to Shatana. There were 3 organizers waiting for me to say welcome at the early hour. We were 3 in the apartment in Shatana. And, I realized I was carrying 3 bags. The Program follows the international Triangle Arts model. Number 3 was everywhere on this trip, I shared it with the public through this performance.
History if an abundant village
The nature in Shatana village was very colorless, dry and hot, very different from my home. I found a small bush which was dry and dead. Through the environment where the workshop took place, I was trying to understand the situation and life in Jordan. Instead of work through a point of view of life and reality, I made an installation in an abandoned house in an abandoned village.
Bedrohee
A collaborative performance project with Rafique Nasereddin
This work takes the poem Bidrohee, one of the master pieces of Bengali poetry written by the poet Kazi Nazrul Islam, and translates it into a performance. The final outcome was a video with text in Arabic, Bengali and English, alongside thematic drawings narrating Bidrohee.