ben washington - uk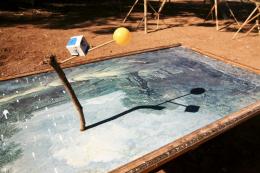 Untitled with Viceroy Rich
Wood, card board, paint
Two weeks isn't a very long time. But lots of things can happen in two weeks. It depends on what you are doing. I made some sculpture. It probably only took a week though. I don't really know what happened to the first week.
One of them has a painting of an English landscape in it. I found it in a pile of rubbish. Another one has a blue pyramid on it. Pyramids are generally a sandier colour. One looks like a green hill on shaky legs. They're all part of the same sculpture though. A bit like a triptych. I guess they're a euphemism for something.
Somehow a pack of Viceroy cigarettes got mixed up in the whole affair. I smoked a lot in Jordan. I usually try not to smoke because it gives you the cancer. Viceroy Rich Tobacco is made by Brown and Williamson, who are owned by British American Tobacco. A little British stick in Jordan.