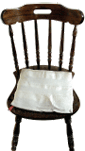 shatana 2007-2009
Sparked by Oraib Toukan's enthusiasm after participating in a workshop in Aley, Lebanon, Shatana International Artist Workshop came to life. The workshop was based on the Triangle Arts Trust network prototype of artist-led workshops that started in 1982, the workshop invited mid-career artists to spend two weeks together away from the distractions of the city, to encourage peer-to-peer exchange, and experimentation.
Shatana International Artist Workshop took place every July for three consecutive years (2007-2009) in the northern village of Shatana, and in partnership with the local communities of the village. In every chapter, the core team from Makan was joined by artists to help organize and assist on site, namely Ghalib El-Khalidi, Rafique Nasseredin and Hanan Khalil. The workshop was process oriented and site specific with a focus on contemporary forms resulting from artists' immersion in their new context. The workshop ended with an open day inviting the public to meet the artists, see the works in progress throughout the village, and to celebrate the experience. 
The three workshops invited over 60 artists in total from countries across the continents which led, nourished by conversations over food and drink, to a web of further encounters and work across the globe. 
 
The Shatana workshop holds a special place in our hearts. Orchestrated throughout the year over dinner and drink, as we imagined and worked through every detail of the workshop, our friendships grew and the collective nature of our work in Makan solidified.